Blue note and Farewell in Stringendo Magazine
2014-04-02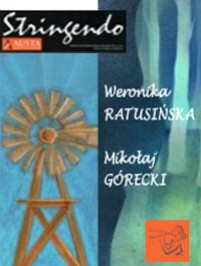 A couple of short notes about our composers and reviews of our new editions: Blue note for cello and piano by Weronika Ratusińska and Farewell for violin and piano by Mikołaj Górecki appeared in Stringendo Magazine, published twice a year by Australian Strings Associtaion (AUSTA). Below we quote the original texts of reviews.

Composer Weronika Ratusińska is on the faculty of the F. Chopin University of Music in Warsaw. She relates the title of her delightful 2007 work Blue Note to 'the use of several fragments of the blues scale, with its distinctive altered chords'. The piece begins in a meditative mood, which transforms into a lively cello/piano dialogue. Although some double stops are indicated, the work is minimal in nature and lays well in the instrument, making it suitable for intermediate players. It's a small gem. [Hollis Taylor]

The son of legendary composer Henryk Mikołaj Górecki, composer Mikołaj Górecki (b. 1971) is accomplished in his own right. Born in Katowice, Poland, he studied with his father at the Szymanowski Academy of Music before receiving his doctorate at Indian University. He currently lives and works in Laredo, Texas. Farewell is a reworking of a piece originally written for string orchestra. Both versions date from 2009. The composer develops short motifs against a background of bi-tonal harmonies and consonant chords. The Larghetto tempo holds many opportunities for espressivo interpretation. Fifth position is the highest called for, making this appealing short work accessible to intermediate players.